Name: Koe no Katachi/A Silent Voice
Genre: Slice of Life, Drama
Director: Naoko Yamada
Studio: Kyoto Animation
Original Airtime: Sep 17, 2016
How much would you rate this Anime?
[Total: 2 Average: 9.5/10]
Ishida Shouya bullies a deaf girl, Nishimiya Shouko, to the point that she transfers to another school. As a result, he is ostracized and bullied himself with no friends to speak of and no plans for the future. This is the story of his path to redemption.
While the movie Koe no Katach | A Silent Voice was truly worth the watch I cannot but admit the fact that the story was executed far better in the manga. It is no-brainer that you cannot adapt a manga panel to panel and you are bound to leave out some parts but the parts this movie decided to leave out hampered the flow of the story. If you haven't read the manga and start off with the anime you will just feel like there are some links missing, there should have been more to the story. It just sort of leaves you wanting for more.  However, this is an issue only if you are extremely judgmental. As a stand out movie it really was a treat to watch. What I truly find really intriguing about this movie is that, it has something to offer to all sorts of viewers, be it young or old; boys or girls. This movie serves us a grim reminder what a person who is being bullied has to go through. We were also fortunate enough to witness a guy who has acknowledged his fault and willing to redeem himself.
The characters in Koe no Katach | A Silent Voice are guilty of the same fault as that of story. The anime basically circulates around Ishida and Nishimiya. While it is essentially not bad thing or a massive error but we had more in depth insight on all characters in the manga. I somewhat found the characters to be rather different. It is not everyday you see a bully realize his mistake and tries to redeem himself. Even Nishimiya was extremely different if you consider the fact that she still wanted to get along with everyone despite what she went through. If I were to be too critical, I would say the characters were not realistic to a degree. Other than these minor issues, they did a splendid job.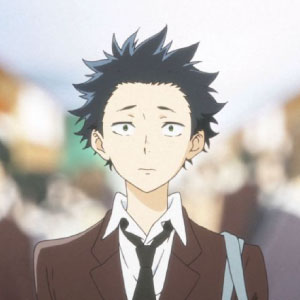 Kyoto animation never lets us down when it comes to art. It didn't let us down with Koe No Katachi | A Silent Voice either. The vibrant colors gave us an extremely different feel to what we experienced in the manga. The animation was fluent and nothing I could really complain about. I mean c'mon I love complaining and yet there isn't a single area where I can point out and say 'Ow, ok the art could have been better here'.
Here are some screenshots from the anime:
The music in Koe no Katachi | A Silent Voice was spot on. I loved the ending. The BGMs were simple and appropriate. It wasn't overly used nor was it anything flamboyant. It was apt considering the nature of the show.
Here is Senpai's Favorite Track from the Movie:
The movie was extremely enjoyable in all honesty. You might find some obvious drawbacks once you compare it to the manga counter part. But as a standout movie alone this was extremely enjoyable and you have a lot to take out from if you really pay close attention
With Studio Ghibli  dominating the anime movie scene, it was definitely worth watching how Kyoto Animation would fare in this department. They have proved it with Koe no Katachi | A Silent Voice. I have to admit they were definitely top notch and did quite a stellar job in adapting the manga. The movie was worth the time and it will be definitely interesting to see what sort of movie Kyoto will come up with in future.
Anime Review: Koe no Katachi | A Silent Voice
written by The Senpai
average rating

9.5

/

10

-

2

user ratings